About
Marc Chagall was born in 1887, in Vitebsk, Russia, to a poor Jewish family that included ten children. His father, Zakhar Chagall, worked in a fish factory and his mother, Ida Chagall, worked in the family home and ran a grocery store. The years of his childhood, the family circle, and his native village became the main themes of his art. These first impressions lingered in his mind like original images and were transformed into paintings.
Chagall received early schooling from a teacher friend who lived nearby. He then attended the town school, but he only did well in geometry. He decided that he wanted to become an artist and talked his parents into paying for art lessons. He began his artistic instruction under the direction of a painter in Vitebsk. In 1907 he moved to St. Petersburg, Russia, where he attended the school of the Imperial Society for the Protection of the Arts and studied briefly with famed Russian painter Leon Bakst (1866–1924). These were difficult years for Chagall. He was extremely poor and was unable to support himself with his artwork. He took a job as a servant and also learned how to paint signs. In Bakst's studio he had his first contact with the modern movement that was sweeping Paris, and it freed his inner resources.
With some help from a patron Chagall went to Paris in 1910. The poets Blaise Cendrars, Max Jacob, and Guillaume Apollinaire, and the painters Roger de La Fresnaye, Robert Delaunay and Amedeo Modigliani became his friends. Chagall participated in the art showings at the Salon des Indépendants and the Salon d'Automne in 1912, but it was his first one-man show in Herwarth Walden's Der Sturm Gallery in Berlin which established him internationally as a leading artist.
Chagall lived in Russia for the duration of World War I and in 1922 the artist left Russia for good, going to Berlin, Germany and then back to Paris. The art dealer Ambroise Vollard (1865–1939) commissioned him to illustrate Nikolay Gogol's (1809–1852) "Dead Souls" (ninety-six etchings) in 1923 and "La Fontaine's Fables" (one hundred etchings) in 1927.
A journey to Palestine and Syria in 1931 gave Chagall first-hand knowledge of the land, which he represented in his illustrations for the Bible. He is considered the greatest interpreter of the Bible since Rembrandt.
He travelled throughout France and elsewhere from 1932 to 1941, when he settled in the United States, where he remained until 1947. He designed the sets and costumes for the ballets Aleko (1942) and The Firebird (1945). Bella, his beloved wife, inspiration, and model, whom he had married in 1915, died in 1944.
In 1948, the year after Chagall returned to France, he started Arabian Nights, an important series of lithographs. Chagall continued to create great artworks throughout the later years of his life. In the 1960s and 1970s, his stained glass art appeared in such buildings as the United Nations (UN) in New York City. In 1973 a museum of his works was opened in Nice, France. In 1977, the Louvre, a world-famous art museum in Paris, exhibited sixty-two of his paintings, an extremely rare event for a living artist. Chagall died at the age of ninety-seven in 1985.

Exhibition
Chagall: the Storyteller, May-June 2018
Also Exhibited by
Also represented by
Work Selection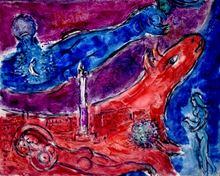 Sketch for the Bastille | Esquisse pour La Bastille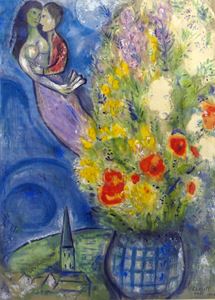 Les Coquelicots / Red Poppies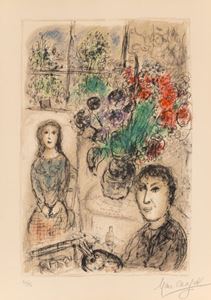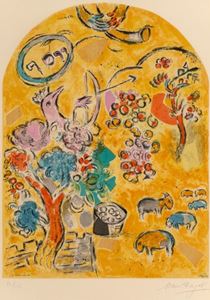 Tribe of Joseph, from Twelve Maquettes of Stained Glass Windows for Jerusalem