About
Lucio Fontana (Rosario, February 19, 1899 - Comabbio, September 7, 1968) of an Italian family, but Argentine by
birth, attended the Brera Academy in Milan and devoted himself to sculpture; back in Buenos Aires he drew up
the Manifiesto blanco with which he laid the foundations of the "Spatialist Movement". In his artistic creations
he used numerous techniques, both in painting and in sculpture and in ceramics. He reaches his poetics of the
most famous works (the cuts on the canvas), in 1958, meditating on the lesson of the Baroque, in which, as he
wrote, the figures seem to abandon the plane and continue in space. Some of his monochrome canvases must
be understood as openly provocative gestures which, such as the holes and cuts, scandalized the public also
for the ease with which it is possible to remake them. On an increasingly monochrome background, he
engraves the canvas with one or more cuts so that the illusion of the canvas as a support for a drawing is
interrupted and the work becomes a material that transforms the canvas into a three-dimensional sculpture. The canvases characterized by the cuts are also called Spatial Concept-Waiting (or Waiting) depending on the
number of cuts. The canvases at the beginning have many cuts also arranged in more or less ordered series
and are colored with aniline; later the cuts are reduced, the canvases are colored with water-based paint and the cuts are closed in the back with black gauze.
Exhibition
2015 Camec, La Spezia
2015 Spirale, Forte dei Marmi
2015 Museo Civico d'Arte Contemporanea, Acri (Cosenza)
2015 Palazzo Strozzi, Firenze
2015 Galleria Tonelli, Milano
2016 Fondazione del Monte, Bologna
2016 Spazio-1 Lugano
2016 Lucca Center for Contemporary Art, Lucca
2016 Fondazione Carriero, Milano
2016 Studio Gallery, Lamezia Terme (Catanzaro)
2016 Studio Guastalla, Milano
2018 Montrasio Arte, Monza
2019 Galleria Borghese, Roma
2019 Metropolitan Museum of Art, New York
2020 Galleria il Chiostro, Saronno
2020 Cortesy Gallery, Milano
2020 Galleria Comunale d'arte Contemporanea, Monfalcone (Gorizia)
2021 Museo Civico, Cuneo
2021 Galleria Matteo Lampertico, Milano
Also Exhibited by
Also represented by
Work Selection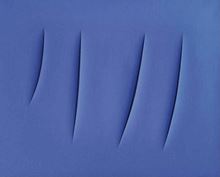 "1FONTANA"/CONCETTO SPAZIALE/ATTESE/1+1-8A8A"