About
Frank Stella (b. 1936) was one of the most dominant and influential figures in abstract painting during the 1960s through the 1990's and remains an influential force in the art world even today at age 92.



Stella was born in Malden, Massachusetts, attended Princeton University where early visits to New York art galleries influenced his artist development particularly by the abstract expressionism of Jackson Pollock and Franz Kline. Stella moved to New York in 1958 after graduation. In 1959, Frank Stella gained early, immediate recognition with his series of coolly impersonal black striped paintings that turned the gestural brushwork and existential angst of Abstract Expressionism on its head.



The Museum of Modern Art included four in its 1959-60 exhibition Sixteen Americans, and purchased one for its permanent collection. That same year, famed gallery owner Leo Castelli began representing Stella.



Focusing on the formal elements of art-making, Stella went on to create increasingly complicated work that seemed to follow a natural progression of dynamism, tactility, and scale: first, by expanding his initial monochrome palette to bright colors, and, later, moving painting into the third dimension through the incorporation of other, non-painterly elements onto the canvas. He ultimately went on to create large-scale freestanding sculptures, architectural structures, and the most complex work ever realized in the medium of printmaking. Stella's virtually relentless experimentation has made him a key figure in American modernism, helping give rise to such developments as Minimalism, Post-Painterly Abstraction, and Color Field painting.



Stella is one of the greatest living artists whose impact is felt in the work of many contemporary American artists and styles. In 1970, Stella was the youngest artist to have a retrospective at New York's Museum of Modern Art, and then, receiving a second retrospective 17 years after - the first living artist to earn the latter distinction. In 2009, Frank Stella was awarded the National Medal of Arts and in 2011, he received the Lifetime Achievement Award in Contemporary Sculpture by the International Sculpture Center.
Also Exhibited by
Also represented by
Work Selection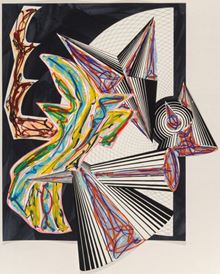 Then Came Death and Took the Butcher, from Illustrations after El Lissitzsky's Had Gadya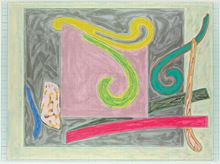 "Albatross from the Exotic Bird Series"