About
Louise Nevelson (September 23, 1899 – April 17, 1988) was an American sculptor known for her monumental, monochromatic, wooden wall pieces and outdoor sculptures.

Born in the Poltava Governorate of the Russian Empire (present-day Ukraine), she emigrated with her family to the United States in the early 20th century. Nevelson learned English at school, as she spoke Yiddish at home.

When Nevelson was developing her style, many of her artistic colleagues – Alexander Calder, David Smith, Theodore Roszak – were welding metal to create their large-scale sculptures. Nevelson decided to go in the opposite direction, exploring the streets for inspiration and finding it in wood. Nevelson's most notable sculptures are her walls; wooden, wall-like collage driven reliefs consisting of multiple boxes and compartments that hold abstract shapes and found objects from chair legs to balusters. Nevelson described these immersive sculptures as "environments". The wooden pieces were also cast-off scraps, pieces found in the streets of New York. While Marcel Duchamp caused uproar with his Fountain, which was not accepted as "art" at the time of its release due to Duchamp's attempt to mask the urinals true form, Nevelson took found objects and by spray painting them she disguised them of their actual use or meaning. Nevelson called herself "the original recycler" owing to her extensive use of discarded objects, and credited Pablo Picasso for "giving us the cube" that served as the groundwork for her cubist-style sculpture. She found strong influence in Picasso and Hofmann's cubist ideals, describing the Cubist movement as "one of the greatest awarenesses that the human mind has ever come to." She also found influence in Native American and Mayan art, dreams, the cosmos and archetypes. A less known but very strong influence was that of Joaquín Torres García, a Uruguayan artist who "in the United States was probably underrated precisely because he was so influential; Adolph Gottlieb's and Louise Nevelson's debt to his work has never been fully acknowledged".

As a student of Hans Hofmann, she was taught to practice her art with a limited palette, using colors such as black and white, to "discipline" herself. These colors would become part of Nevelson's repertoire. She spray painted her walls black until 1959. Nevelson described black as the "total color" that "means totality. It means: contains all ... it contained all color. It wasn't a negation of color. It was an acceptance. Because black encompasses all colors. Black is the most aristocratic color of all. The only aristocratic color ... I have seen things that were transformed into black, that took on greatness. I don't want to use a lesser word." In the 1960s she began incorporating white and gold into her works. Nevelson said that white was the color that "summoned the early morning and emotional promise." She described her gold phase as the "baroque phase", inspired by the idea being told as a child that America's streets would be "paved with gold", the materialism and hedonism of the color, the sun, and the moon. Nevelson revisited the Noh robes and the gold coin collections at the Metropolitan Museum of Art for inspiration.

Through her work, Nevelson often explored the themes of her complicated past, factious present, and anticipated future. A common symbol that appears in Nevelson's work is the bride, as seen in Bride of the Black Moon (1955). The symbol of the bride referred to Nevelson's own escape from matrimony in her early life and her own independence as a woman throughout the rest of her life. Her Sky Cathedral works often took years to create; Sky Cathedral: Night Wall, in the collection of the Columbus Museum of Art, took 13 years to build in her New York City studio. On the Sky Cathedral series, Nevelson commented: "This is the Universe, the stars, the moon – and you and I, everyone."

Nevelson's work has been exhibited in a number of galleries, including the Anita Shapolsky Gallery in New York City, Margot Gallery in Lake Worth, Florida, and Woodward Gallery in New York.
Also Exhibited by
Also represented by
Work Selection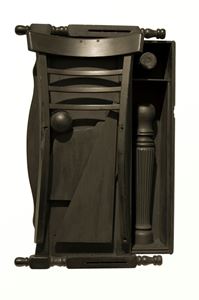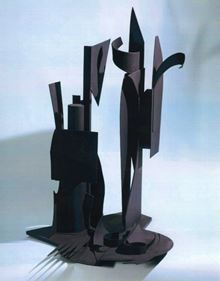 Maquette for Sun Disc/Moon Shadow V