About
Edward Ruscha was born in Omaha, Nebraska, to a Roman Catholic family. His father worked as an auditor for an insurance company and his job took the family to Oklahoma City, where they lived for 15 years.
Ruscha's artistic talents developed at a young age. He particularly enjoyed drawing cartoons, an interest he maintained for many years. Although his mother supported his decision to apply to art school, his father was unhappy about the idea. Though, when his son gained a place at Chouinard Art Institute in Los Angeles, he changed his mind because he had read that Walt Disney often offered well-paid jobs to its graduates.
While he was studying in LA, his father died. His mother Dorothy decided that she needed to expand her horizons so after Ruscha graduated, he went on a trip to Europe in the summer of 1961 with his mother and brother. They travelled for four months, buying a small car in Paris and using it to visit countries all over Europe. Ruscha visited museums, but found he wasn't gripped by the art of previous centuries. Instead, when he returned to Paris at the end of the trip, he spent time walking through the streets and painting local signage, such as those above the Metro stations.
After returning to Los Angeles, he worked for the Carson-Roberts Advertising Agency designing layouts. In 1962, Ruscha was invited to show his work as part of the "New Painting of Common Objects" show at the Pasadena Art Museum, curated by Walter Hopps. The show is generally credited as the first museum exhibition in America showing what would later be dubbed Pop art. Ruscha, the youngest artist in the group, showed his work alongside pieces by Roy Lichtenstein, Jim Dine, Joe Goode, Wayne Thiebaud and Andy Warhol.
The following year, Hopps invited Ruscha to put on his first one-man show at his commercial gallery, the Ferus Gallery, where Andy Warhol had presented his first solo show in 1960. The show was a success and Ruscha sold six paintings. The same year, Hopps organized a large Marcel Duchamp retrospective, an artist who had greatly inspired Ruscha's thinking. Ruscha attended the opening of the exhibition, and had the opportunity to meet Duchamp in person, an experience he greatly valued.
Ruscha's first major retrospective was held in 1982 at the San Francisco Museum of Modern Art.
Ruscha continued to produce work on a prolific scale throughout the 1990s and early 2000s. When his original dealer Leo Castelli died in 1997, Ruscha was taken on by art-world mogul Larry Gagosian. This catapulted his reputation, as an important international artist outside of Los Angeles, made evident by his inclusion in the 2005 Venice Biennale, where he showed his Course of Empire, a series of ten large-scale paintings. This increased fame coincided with a resurgence of international interest in Los Angeles as a major centre for the art world.


Exhibition
American Post War, July 2017
Also Exhibited by
Also represented by
Work Selection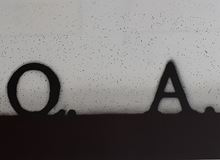 Question & Answer, from: Etc.; If; South; Question & Answer