About
Born in Madrid, Spain, Daniel Beltrá is a photographer based in Seattle, Washington. His passion for conservation is evident in images of our environment that are evocatively poignant. The most striking large-scale photographs by Beltrá are images shot from the air. This perspective gives the viewer a wider context to the beauty and destruction he witnesses, as well as revealing a delicate sense of scale. After two months of photographing the Deepwater Horizon Gulf Oil Spill, he produced many visually arresting images of the man-made disaster. His SPILL exhibit premiered in August 2010 and has toured around the globe since then.

Over the past two decades, Beltrá's work has taken him to all seven continents, including several expeditions to the Brazilian Amazon, the Arctic, the Southern Oceans and the Patagonian ice fields. For his work on the Gulf Oil Spill, in 2011 he received the Wildlife Photographer of the Year Award , the Lucie Award for the International Photographer of the Year - Deeper Perspective, and was chosen as one of the six finalists for Critical Mass for Photolucida. In 2009, Beltrá received the prestigious Prince's Rainforest Project award granted by Prince Charles. Other highlights include the BBVA Foundation award in 2013 and the inaugural "Global Vision Award" from the Pictures of the Year International in 2008. In 2007 and 2006 he received awards for his work in the Amazon from World Press Photo. Daniel's work has been published by the most prominent international publications including The New Yorker, Time, Newsweek, The New York Times, Le Monde, and El Pais, amongst many others.

Daniel Beltrá is a fellow and board member of the prestigious International League of Conservation Photographers.
Work Selection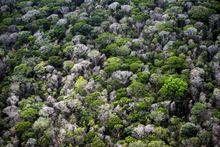 Amazon pristine canopy (#220), 2017