About
Oli Kellett is a British photographer based in Hastings, UK. Since 2008, he has dedicated himself to exploring the urban setting and our relationship with the crossroad. Working only with available natural light, Oli patiently waits until people, place and light all fall into place.

Oli's major body of work, Cross Road Blues, borrows its title from the legendary song by Delta Blues musician Robert Johnson. According to legend, Robert Johnson met the devil at a crossroads outside of Memphis and sold his soul in exchange for his musical talents. He was forever plagued despite his success. The mythology surrounding Johnson's song can be interpreted as a cautionary tale of the price paid for the American Dream, and Kellett's allusion to it leaves the viewer wondering if the figures in his photographs chose their souls or their dreams at their crossroads.

Crossroads are a democratic place. We all have to wait. On average, we will spend five years 'waiting' during our lifetime. Being held at a 'DON'T WALK' sign allows us a few seconds, and occasionally minutes, to ask ourselves 'Where do we come from?' and 'Where are we going?'

At the 2018 Royal Academy Summer Exhibition, Oli Kellett was awarded the Rose Award for Photography and the Arts Club Award. He was recently awarded the Royal Photographic Society International Photography Exhibition 161 Bronze Prize.
Work Selection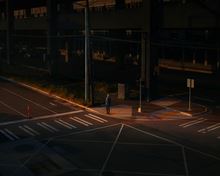 Cross Road Blues (Alaskan Way, Seattle)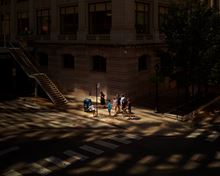 Cross Road Blues (Hubbard St, Chicago)