About
William Klein was born in New York city in 1928. After graduating early from high school, he began studying sociology at the City College of New York. in 1946 he joined the U.S. Army and was stationed in Germany, where he won his first camera in a poker game. After relocating to Paris in 1948, he continued his studies at the sorbonne with the assistance of the G.i. Bill. At the time, his focus was abstract painting and sculpture, which he studied under Fernand Léger. Klein's early career breaks came from two exhibitions in Milan, where he was discovered by the architect Angelo Mangiarotti. They began to collaborate when Mangiarotti asked Klein to recreate once of his abstract paintings on the rotating room dividers of a Milanese apartment—his first commissioned work. It was the experience of documenting these panels in motion that lead him to reconsider photography.
in 1954, Alexander Liberman—then the art director of American vogue—asked to meet with Klein after seeing his kinetic sculptures in the paris group show, "Le salon des réalitiés nouvelles". Subsequently, Vogue published his photographs of Dutch barns, reminiscent of Mondrian, soon after their meeting. Thus began his foray into fashion photography, as well as his well-known photographic essays on various cities. Shooting for Vogue during a brief return to New York , Klein let loose on the city, taking fashion photography in a whole new direction. He captured the beautiful and the grotesque all within wide-angle and telephoto shots. Taking models down into the streets, his revolutionary techniques pioneered a new vision.

Widely acknowledged as a signficant innovator in the history and design of the photo book, Klein published his first book "Life is Good and Good For You in New York" in 1956, and won the prix Nadar the following year. Capturing the rough and tumble of daily life, Klein's brutally honest images caused a major sensation. Three more books were published, each with photographs from a different city: Rome, Moscow and Tokyo.

In 1958, Klein began to explore the moving image, creating his first pop film, "Broadway by Light", in 1958. He went on to produce feature films and documentaries including a satire about the fashion world, "Qui-Êtes vous Polly Maggoo?" (1966); "Muhammad Ali", and "The Greatest" (1969). His last film to date, "Messiah" (1999), reveals on an epic scale a summary of the themes present throughout his artistic career.

The recipient of numerous awards, Klein was honored with a commander of Arts and Letters in France in 1989, the medal of the century by the Royal Photographic Society in London in 1999, the international center of photography Infinity Award for Lifetime Achievement in 2007, and the outstanding contribution to photography Award at the 2012 Sony World photography Awards. Works by William Klein are included in the collections of such institutions as the Metropolitan Museum of Art, the Museum of Modern Art, and the Whitney Museum of American Art in New York; and the Centre Pompidou in Paris. Klein lives and works in Paris, France.


Work Selection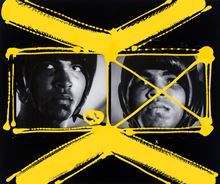 Muhammad Ali, Miami 1964-2001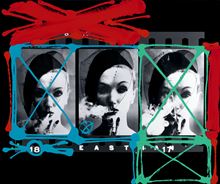 Smoke + Veil (x3) (Vogue), Paris 1958-2010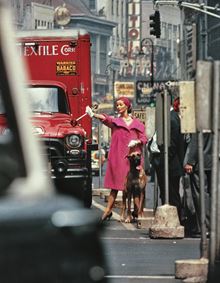 Dolores Hawkins in a pink wool coat, New York (Vogue), 1958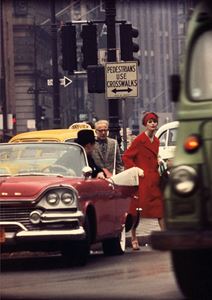 Anne St. Marie + Cruiser, New York, 1958 (Vogue)