About
Miss Bugs is a London-based street art duo composed of a girl and boy - Miss & Bugs - known for their colorful mixed-media works and style & inspiration. Although Miss Bugs is a collaboration founded in the beginning of 2007 there is not much information about the artist couple. The only info featured on Miss Bugs' website is a Pablo Picasso quote.

This quote from one of the most important artists of 20th century best sums up Miss Bugs' motto, as the artist pair takes iconic imagery from pop culture and art history and reforms it is using different kind of various mixed media methods. Making their own newly reconstructed iconic pieces, Miss Bugs uses an array of techniques from silk screen printing to resin casting. Inspired by pop culture, superheroes, art history, as well as the artists such as Piet Mondrian, Jeff Koons, and Damien Hirst, Miss Bugs' style is full of contrast - clean animations with dripping paint, colorful bodies with black and white edges.

Miss Bugs was founded in the early part of 2007, originally coming from a background in photography and graphics. Working in partnership, they developed fast, spontaneous working methods, cutting and pasting existing images, "remixing and sampling classics" in art to create new pieces with their own mark. Miss Bugs started out marking small scale works on paper, using screen printing with hand painted elements. They then scaled the work up, making life size cut outs of characters to place in situ on the streets of London. These were left in place to become part of the cityscape and recorded through photography.
Their most recent work includes larger scale pieces, incorporating laser cut planes of wood, hundreds of small component objects and poured resin. These pieces are time consuming and labor intensive, and a long way from the quickly constructed art pieces of the early days, Miss Bugs has always taken a broad and varied approach to creating work. The combining of materials and objects, along the way contemporary imagery can be collaged together, either by hand, through photography, or using a digital process, is important.

The new bodies of work explore how people are living in their own individual echo chambers, caught up in the broader network of communication, where their own beliefs are amplified and looped back to them endlessly on repeat. Within these stark modern portraits and figurative pieces, the resin holds and preserves complex networks of choice components, creating kaleidoscopic chambers of interconnected patterns. Like the patterns found in nature, objects spiral like sunflower heads or colonies of coral. Using mathematical rotations, symmetry and mirroring, order is created to reflect the man-made social networks that people exist in today.
Suspended in resin, plastic Japanese charms, superheroes, and surgical blades shimmer like defunct objects trapped in time. The use of old toy cars and Lego figures is a not to nostalgia for more innocent times. The figurative characteristics combine meandering organic lines with sharp graphic edges and colorful resin windows, which create a sensual reflective surface to the work, representing the TV and mobile phone screens that filter people's perceptions of the world.
Work Selection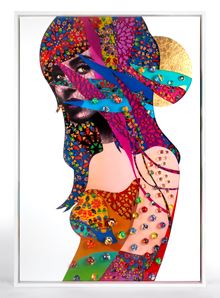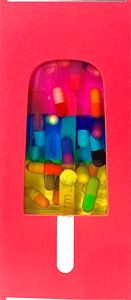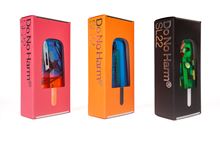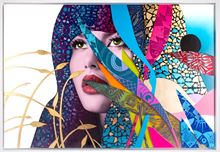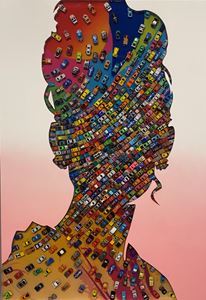 Driving Miss Crazy ( Today Series)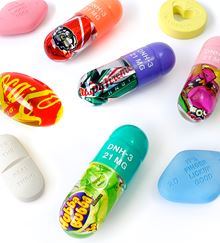 Junk Caps | Skittles, Ben & Jerry's, Dunkin Donuts, Slush Puppies, Frosted Flakes, Twix, Wendy's, Snickers, Peanut M & M's, Reeses Peanut Butter Cups, Mars, Juicy Fruit, KFC, Subway, Kit Kat, Pepsi, Sunny Delights